Security Boss Insulated Guillotine Dog KennelDoors
Premium Insulated
Guillotine Dog Kennel Doors | Security Boss
Premium Insulated Guillotine Kennel Dog Doors
The Security Boss Premium Insulated Kennel Doors
are designed to give the customer the most options with their purchase of a guillotine dog kennel door. These insulated kennel doors are designed to provide maximum insulation in rugged and abusive environments. The unique 1/2" thick layered design construction of the Insulated Kennel Door allow for material contraction and expansion in even the most harsh weather environments. These free-floating layers are securely held together with specially designed rivets. So when the interior of your kennel is warm and there are sub-zero temperatures outside, these doors will operate efficiently and smoothly providing you with maximum energy efficiency.
What Customers are Saying About their Security Boss Insulated Doors
"Since installing our new insulated doors we have noticed it is easier to maintain a constant temperature in facility along with savings in heating & cooling bills. Our old doors had gaps between the doors and the walls which made for constant energy loss and drafts".
"The new Security Boss Doors are much more substantial than our previous kennel doors, which didn't close well or easily because they were so lightweight. These new doors are easier to open - close and look much better!"
"The doors we had before were translucent, this created a problem with dogs noticing movement outside and created subsequent chewing and destructive behavior, the Security Boss Insulated doors are truly heavy duty and solid, alleviating the problems we previously had".


Premium Insulation and Strength.
The Insulated Panel is designed with air-cell chambers to provide an insulating barrier, saving you on energy costs. This air-cell layer is re-enforced with aluminum sheeting on both sides and then layered with tough ABS plastic on the interior and exterior. These floating layers secured by specially designed rivets allow for material expansion and contraction to reduce warping in temperature extremes.


Top & Bottom Reinforcement
Doors come standard with heavy duty aluminum reinforcing protective caps for top and bottom of door.

Side Rails - Most durable and thickest extrusion compared to any other kennel door.
The unique design of the side channels means that our rails will not bend, warp or disfigure as found with other brands using cheaper and thinner rail extrusions. Our Rails are indestructible. They can be used for the Security Boss Premium Insulated Doors, Security Boss Standard, Kennel Clad Metal Insulated and Kennel Clad Metal Standard.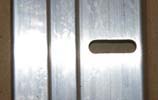 The adjusting slots are wider than other brands
: this means Security Boss Kennel Doors are easier to install and allow more forgiveness in positioning the side rails to acquire the proper glide for the panel.

Each Kennel Door comes with complete mounting hardware:
2- Screw in hook-pulley assemblies
6- All purpose side rail screws and mollies (for wood, block or concrete walls)
2- Cable clamps
15 Ft. high strength, 7x7 stainless steel aircraft cable coated in durable black PVC (480lb. test)
1- "S" hook
Technical
Specs

Printable
Instructions

Warranty

Click to View
Included hardware

Get
Adobe Reader
Security Boss Guillotine Insulated Dog Kennel Doors

Size

Maximum Opening in Wall
(This dimension is the maximum size opening that each corresponding
Kennel Door will cover, allowing for installed side channels).

Insulated Panel Doors

(Composite)

12" wide x 29" height

17" wide x 29" height

Extra Large




17" wide x 34" height


Call and ask to speak with our Commercial Sales Consultant at 1-800-829-7876