DOG HOUSES
Dog House
Heated Dog Houses | Insulated Dog House | Outdoor Dog House
Not just your dog's house... it's your dog's home.
With so many different dog houses available on the market today it can be difficult knowing which style will best suit your needs. From insulated and weatherproof houses to vented and open designs, choosing the right type of dog house is a big decision for you and your dog. Moore Pet Supplies only carries high quality dog houses that will stand up to abuse from use by your dog and exposure to the elements.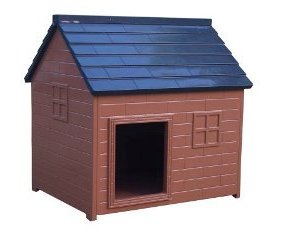 One of the most important factors to consider when choosing a dog house is the environment that you live in. While some areas have relatively moderate climates and weather, others can experience extreme temperatures and harsh conditions. For areas where the temperatures can become very cold an insulated dog house may be the best option. If the temperature is hot you may want to consider a dog house that is well ventilated. If rain, snow, ice, or harsh winds are persistent a weatherproof dog house may best suit your needs.
It is also important to keep the size of your dog in mind when purchasing a dog house. While many dog houses are available in a wide range of sizes, some are not. Your dog should have enough room to walk through the entrance and lay down comfortably. Some dog breeds prefer to stretch out when laying down while others tend to curl up. You will want to be sure that your dog can rest in comfort.
Your dog will love having a place to call his own.