PetSafe QuickFit
PetSafe QuickFit Pet Doors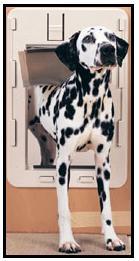 The PetSafe QuickFit Pet Door is a self-framing pet door for all doors 1 1/4" to 2" in thickness.
The Petsafe Quickfit is designed to be an economical door that is easy to install.
High Impact plastic frame, durable, easy to clean frame.
High Impact slide-in closing panel
Door has translucent-tinted flexible vinyl flap
Self-frames cut through door
Easy to install, comes with template and complete instructions
Available only in

white

Replacement Flaps

available
May be installed in walls, however, customer will need to frame-out and weatherize tunnel....no wall kit available for this door, also see
PetSafe Wall Entry Pet Door
.
The Replacement flaps that fit the PetSafe "Quickfit" pet doors
also fit the following models:

-Petsafe Quick-N-Easy

-Petsafe Easy Fit

-Petsafe Bargain Hound doors
Important Notice:


The PetSafe QuickFit Doors
has been Discontinued by the Manufacturer.
Replacement Flaps will still be available
through Moore Pet Supplies
Click Below for More info:
PetSafe QuickFit Replacement Flaps

PetSafe Quickfit Pet Doors




The QuickFit fits doors that are 1 1/4 - 2" in thickness

Size

Flap


Rough-Cut
Dimension

External
Frame
Dimension

Price



4 1/4" x 7"

6" x 8 1/8"

6 3/4" x 9 3/4"

8" x 11"

10 3/4" x 14 3/4"

12 1/8" x 17 1/2"

10 1/2" x 14 1/2"

13 3/4" x 19 3/8"

15 3/4" x 23 1/4"

The

Replacement flaps

that fit the

PetSafe "Quickfit" pet doors

also fit the following models:

Petsafe Quick-N-Easy, PetSafe Easy Fit, & PetSafe Bargain Hound Doors




Replacement Flaps



Warranty & Return Info